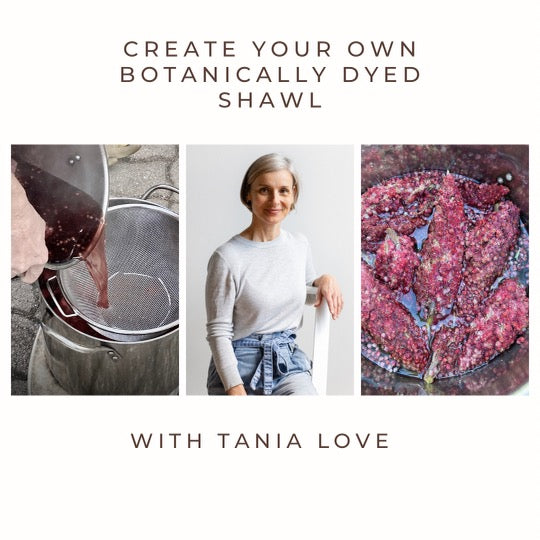 Workshop - Create Your Own Botanically Dyed Shaw with Tania Love
Sunday September 24th, 2023 At the Studio / Chetwyn Farms Prince Edward County
10am - 3pm
Continuing the exploration of natural dyes from Saturdays' workshop or enjoy on its own! 
*Save 15% when you book both Saturday & Sunday Workshops!
Create your very own naturally dyed shawl using the botanicals foraged from Shed's farm.  On a super soft and generously sized (43 x 90 inches) organic cotton, we'll explore surface design along with the nuance and variation that can be achieved by working with mordants in combination with natural dyes.
This session is a perfect complement to Saturday's session Natural Dyes 101 and can equally be enjoyed without prior experience.  
Bring your curiosity and gather in good company.  
All materials will be provided Including the organic cotton Shawl
Level: All levels Welcome 
Weather: Dress for the weather, will be forging the farm outside for part of the day. 
Lunch
Pack a lunch OR add-on a Picnic Lunch Box for $25.00 and select "Workshop Plus" and choose form menu - adding to your order in the notes section your selections.
There is no refund or reduction in the fee for missed classes or cancellations.
You are welcome to pass along your  paid workshop space to a friend.
Tania Love is a Toronto based visual artist who takes the cues for her work from the natural and cultural environment. Her curiosity in the intersection between traditional methods and innovative expressions has led her to explore a breadth of materials. She places emphasis on process oriented, tactile works to invite quiet, slower rhythms and connection to natural cycles. Recipient of numerous grants, international residencies and exhibitions, her work has been exhibited in public and commercial galleries as well as design projects within Canada and internationally. Tania's work can be viewed at: https://tanialove.com/ 
Workshop - Create Your Own Botanically Dyed Shaw with Tania Love