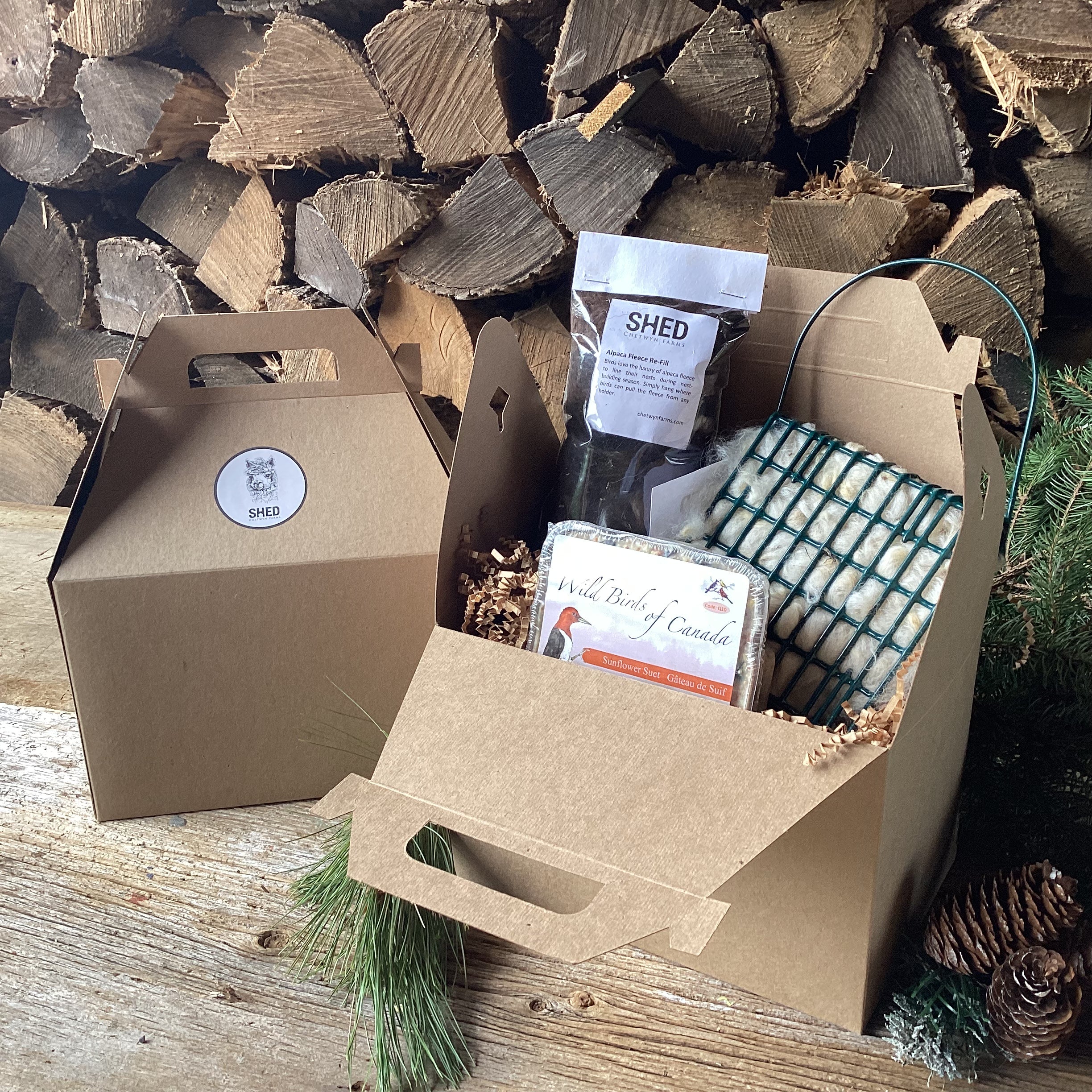 Alpaca Fleece Feeder Gift Set - "Birders" Gift Sets
For the bird enthusiast!  These unique fleece feeders are sure to provide hours of enjoyment as you watch birds pull fleece from the feeder and return over &  over again during nest-building.  
Each of these Birder Boxes are made with birders in mind!  Containing one of our signature fleece feeders along with replacement fleece refills and suet cakes for bird-feeding (as specified and according to the design of the fleece feeder)
Watch the birds pull the fleece from these unique feeders to line their nests during nesting season.  Simply hang the feeder where birds gather and enjoy the sight of them pulling the fleece and returning time again......
Original Single Fleece Feeder Box: 1 power-coated single feeder, 1 suet cake, 1 Fleece Feeder re-fill.  
Copper-Top Single Fleece Feeder Box: 1 single copper-top feeder, 1 suet cake, 1 Fleece Feeder re-fill
Copper-Top Double Fleece Feeder Box:  1 double-size copper-top feeder, 2 suet cakes, 2 Fleece Feeder re-fills.
Peanut-Feeder:  1 hand forged peanut feeder, 2 fleece refills.
Orb-Feeder:  1 hand forged orb feeder, 3 fleece refills.
Each gift box is hand-packed and over-wrapped for shipping. Suitable as a gift/presentation box.
Alpaca Fleece Feeder Gift Set - "Birders" Gift Sets
Bird Nesting Gift Package
This lovely package was ordered as a gift for my 87 year old Aunt who loves to watch the birds from her window. The package was delivered (early!) and was absolutely beautiful! She loved it and had it set up in a trice and outside her window where she could watch the action as quickly as possible. Highly recommend both the gift package and The Shed - amazing service!
Gift Sets - Fleece Feeders - "Birders" Gift Sets
Such a unique gift for any bird lover!!
The packaging and personal thank you written on order was a very nice touch. I can hardly wait to give it to my mom for Xmas. I hope she loves it as much as myself.
Beautiful
Love the Fleece Feeder holiday box. Beautifully packaged. Can't wait for nesting season to begin.
Wonderful gift idea
We love this farm and their products! The bird feeder is wonderful and arrived in great time! Very happy.