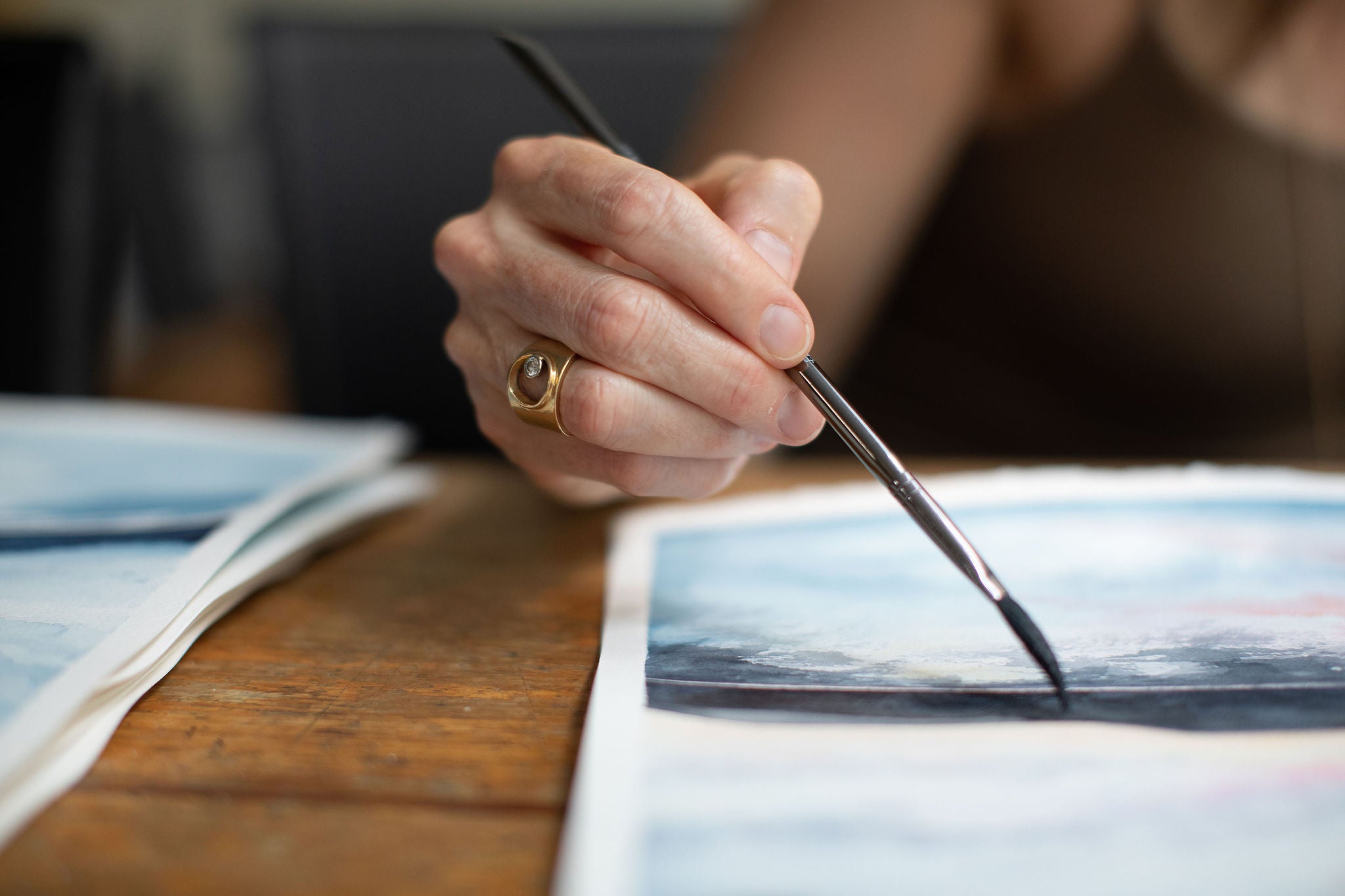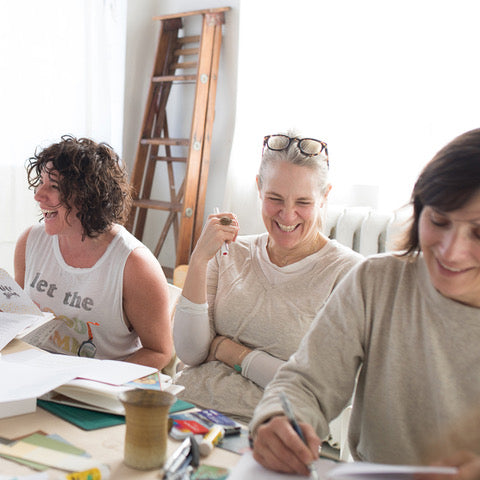 Workshop - Art Journalling with Watercolour & Embroidery with Marina Dempster & Tanya Fenkell
Saturday November 4th, 2023 At the Studio / Chetwyn Farms 10AM-4PM
ART JOURNALING WITH WATERCOLOUR & EMBROIDERY:
Join artists Marina Dempster and Tanya Fenkell for a playful day of watercolour painting and embroidery while learning how to incorporate these into a rich daily art journaling practice. 
We'll spend the day painting and stitching in Chetwyn farm's workshop space, an airy newly-converted 1800s barn with a spectacular view of the alpacas in the nearby pastures
A deluxe artist kit is included in this workshop  containing all you need to take your art practice anywhere. By the end of the day, you will have personalized your art kit and filled it with painted sketches. The kit includes a custom palette of hand-made watercolours with gorgeous paintbrush created for us by Beam Paints, an Indigenous paint company on Manitoulin Island. The kit also includes a Kaweco sport fountain pen, Blackwing pencil and Faber-Castell watercolour pencil. All of the items are enclosed, along with a blank journal, in the beautiful Belove Unlimited zippered pouch which will form the basis for our embroidery. 

Level: All Welcome ! All Materials Included 
Alpaca Experience included

This is a wonderful opportunity to embrace a portable and meaningful art journaling practice to nourish your natural creative rhythms, hear your inner voice and record your daily attentions. It's a gorgeous way to both create a place for consistent creativity and to plant seeds for life and projects beyond its pages.


Students Supply List to Bring:
*Embroidery floss, glue sticks, pencils, crayons for watercolour resist, etc will be
provided at the workshop and students are welcome to bring any supplies they'd like to play with.

Lunch:  A light vegetarian lunch, drinks coffee, tea provided as part of registrations!
There is no refund or reduction in the fee for missed classes or cancellations.
You are welcome to pass along your  paid workshop space to a friend.
Marina Dempster
Marina Dempster is a multidisciplinary artist, curator and professional photographer. Her sculptural fibre art has been exhibited internationally in a over a dozen art museums including the Cheoungju International Biennale, representing some of the best of Canadian Craft, while her commercial and portrait/documentary photography work has seen her win awards, including a Juno.
Her meticulous sculptures are both playful and sacred 'artifacts' that intertwine form with function. Influenced by the patterns and cycles of nature and consciousness, Dempster cross-pollinates traditional craft techniques to transmute forms, materials, and limiting habits of thought and emotions.
Stitch by stitch, loop by loop, bead by bead, she asserts our interconnection and the archetypal tensions influencing the polychromatic ways we choose to orient ourselves. Meetings of opposites throw all questions open, bring levity to gravity and are an invitation into previously unimagined insights. Marina Dempster's artworks embody a humble and universal reckoning and movement from shame to grace, fear to love and woe to wisdom.
In tandem with her sculptural art practice, Marina is a professional photographer, collaborative curator, intergenerational mentor, and mother of two, most enlivened by what happens when personal practice meets community. She is passionate about arousing nourishing creative habits and rituals which foster both self-knowledge, creative development and community connection, leading to positive social change.

Tanya Fenkell
Tanya Fenkell is a Canadian artist and writer who lives in Toronto with her husband and sons. She is a self-taught artist, but throughout her life she has worked on developing her skills both in writing and the visual arts. Tanya holds a BA in English Literature from McGill University, an MA (English) and an MIS from the University of Toronto. Tanya's love of all things literary manifests in her poetry, which has appeared in various small journals. Her creative practice has included study of various arts and fibre-related crafts, especially knitting, drawing, sewing, embroidery and bookbinding; she has also been a knitting instructor.
She has spent many years focused on raising three sons, prior to which she worked as a Photo Librarian at The Globe and Mail and was later co- owner/designer for Cloud Cashmere with Marina Dempster. The solitude and isolation specific to raising small children allowed her to delve deeply into watercolour (so portable and quick-drying), now her chosen medium for tranquil, moody landscapes and figures. She is lucky enough to spend time up north, mostly in the area around Baptiste Lake, and had her first solo show at the Art Gallery of Bancroft in 2022. Tanya exhibits her art regularly in Ontario and her work is held in private collections in Canada and the United States.

Workshop - Art Journalling with Watercolour & Embroidery with Marina Dempster & Tanya Fenkell