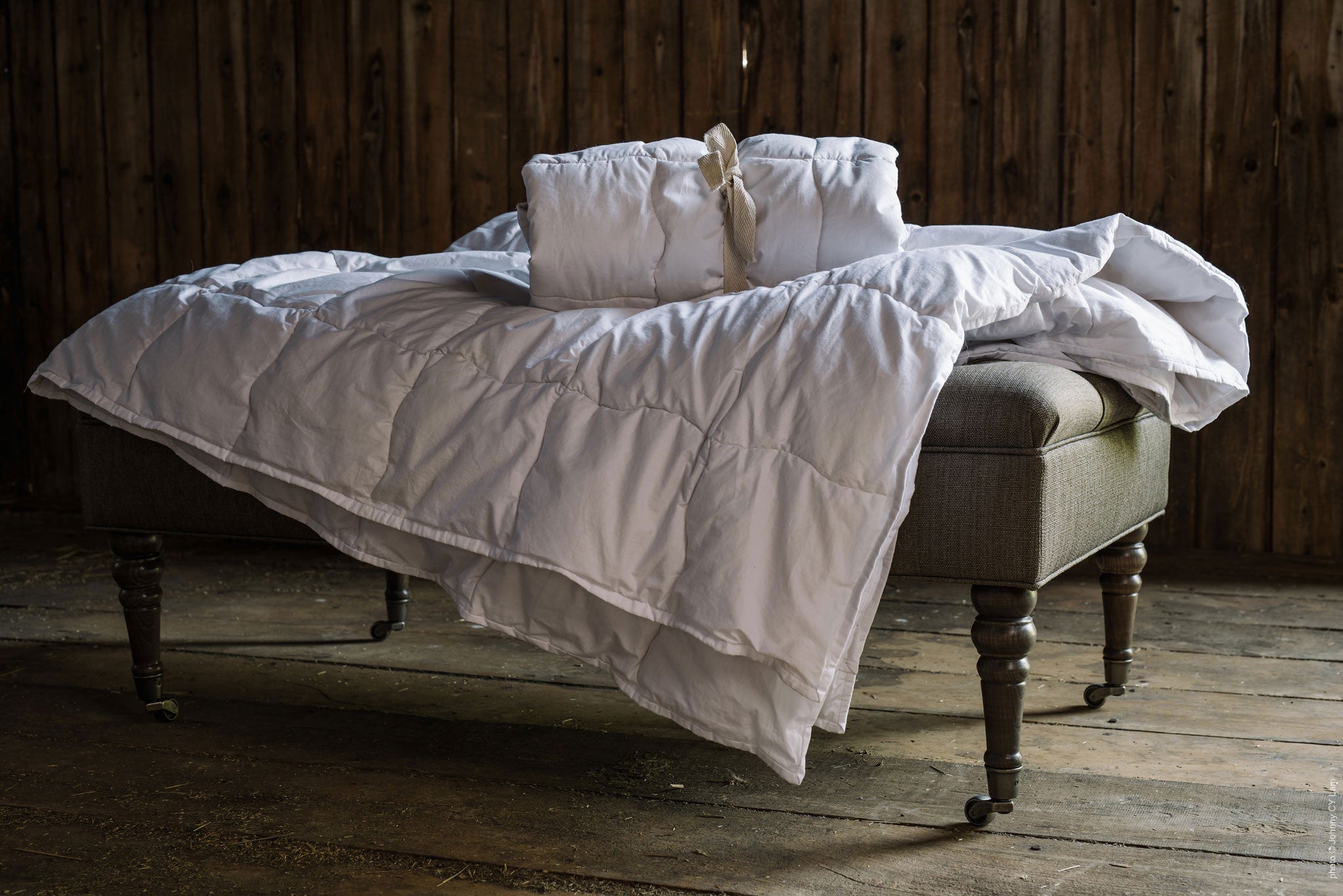 Alpaca Duvet - 100% Alpaca filled
Our 100% alpaca filled duvets are made exclusively for SHED - Chetwyn Farms in Prince Edward County by a partner farm in Ontario.  Each are hand made with 100% down-proof cotton casing sewn in 8" box construction to ensure even distribution of alpaca filling thus eliminating hot or cold spots.    Our duvets are custom made* with an industrial long-arm quilting machine and each are then trimmed by hand to ensure a fine finish.  Hypoallergenic soft to the touch and warmth without the bulk!
*Please allow 3-4 weeks for this item as it is made to order at time of purchase.
**We understand that there are discrepancies between the European and North American dimensions for bed linens.  We refer to "Soft Measurements" as the width of fabric differs, quality and loft of fibre, milling process all play rolls in how thick and fluffy each batch of batts is and this influences the finished dimensions.
With that in mind here is an approximate on sizes.
Cat-Bed - Suitable as an insert in a cat's basket!
Crib – 44" x 32"
Twin – 68" x 90"
Queen/Double 88" x 90"
King – 102" x 90"
Alpaca Duvet - 100% Alpaca filled
Alpaca Duvet - 100% Alpaca filled
Perfect Duvet!
I have waited a year to write this review in order to take this duvet through the four seasons. We have had down quilts for years and we were unsure how this would compare. Well, we love it! I do not miss the loft of the down quilt like I thought I would. This duvet keeps us warm but not too warm. In the winter, I added quilted stonewashed cotton blanket and in the summer we used just with a cover. I would highly recommend this duvet!
PERFECT IN EVERY WAY
Just what I was looking for! I'm a hot sleeper so I didn't want down. Breathable, weighty in the most comforting way. Well made. I do wish it had loops in the corners to tie to my duvet cover. I did ask for this in the notes at purchase but it must have been missed. Still fantastic.
Overachieving in product and customer service
Great product! Order was tracked and followed up all the way, the owners did everything they could to please us, and the end result is a very pleased older couple who were introduced to a new product, a new way of ordering on the internet, and safety on the website. As that old saying goes, 'who could ask for anything more?'
I love this duvet! My only suggestion would be a loop on the corners of the duvet so the duvet cover can easily be tied on. This is the perfect size for a little one.