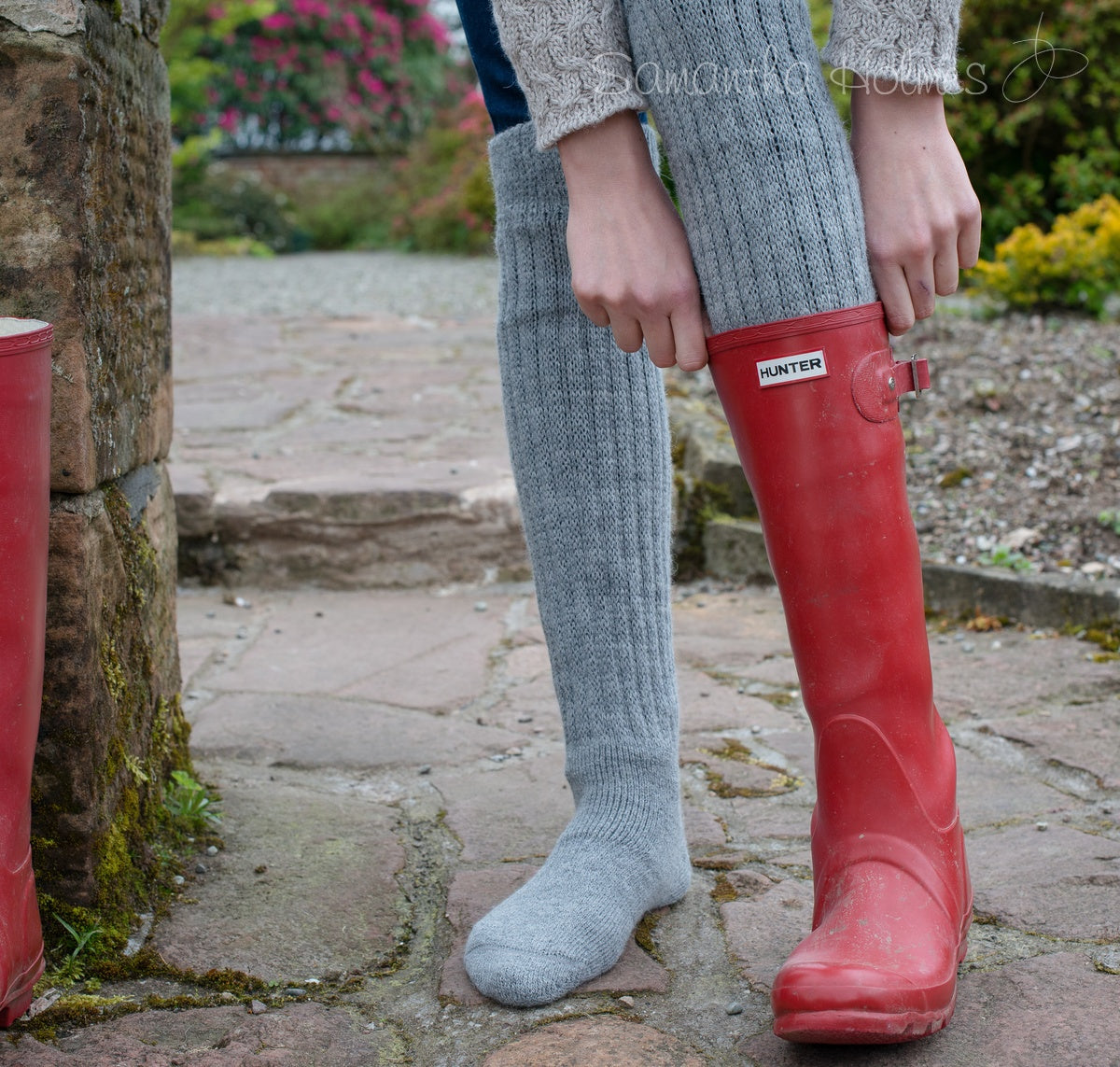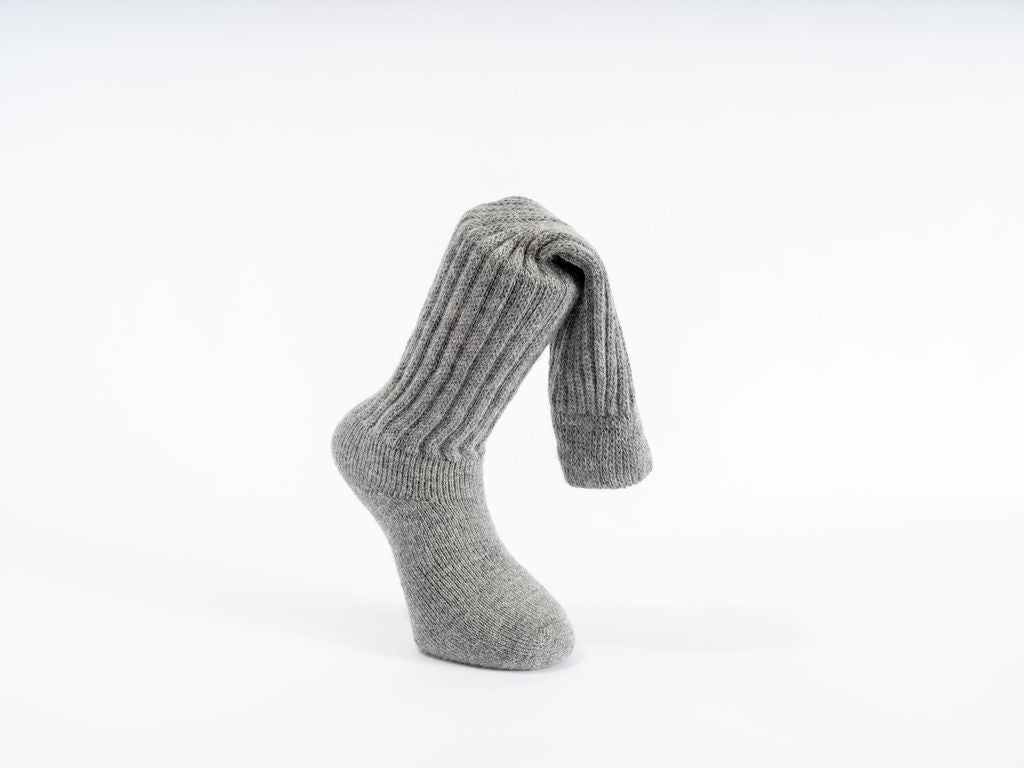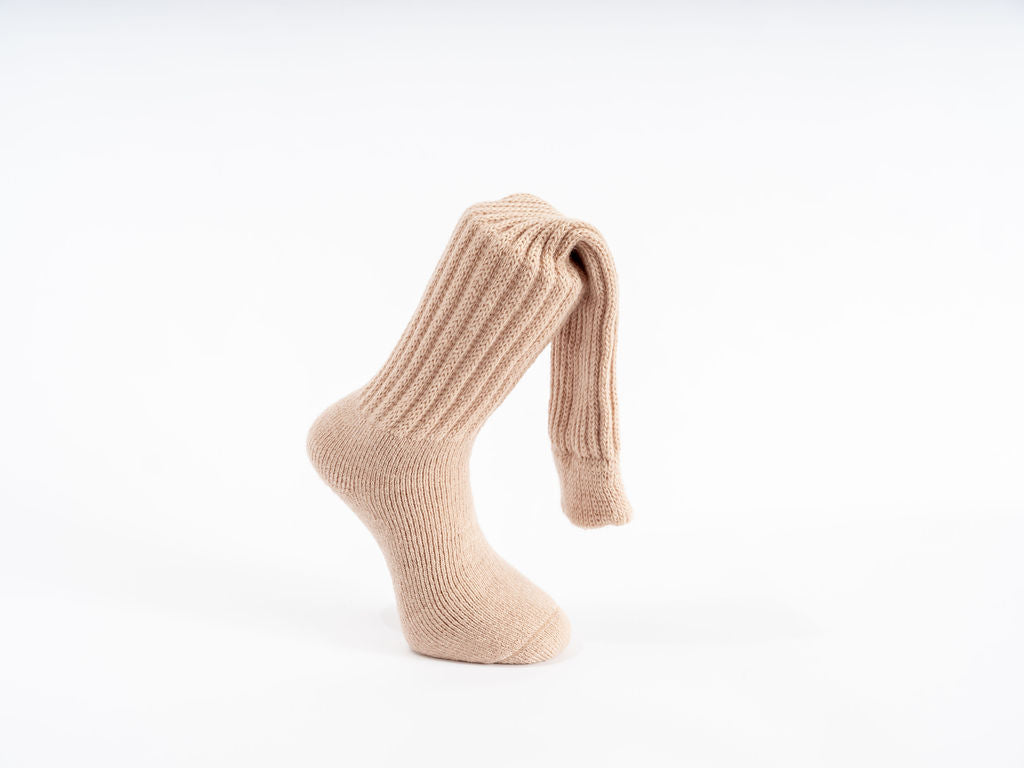 Alpaca Socks- The "Wellington Wellie" Knee or boot Sock
The perfect boot sock - The Wellington Wellie is the warmest, softest, longest lasting alpaca socks! Cushion looped, a fantastic fit and they won't wear out like 100% baby alpaca.  A gentle elastication around the arch of the foot ensures that they won't slip down inside your boots, and the same elastic ribbed cuff at the top keeps them from slipping down the leg.
45% Baby Alpaca, 40% Acrylic, 15 % Nylon.   A higher ratio of baby alpaca would not be as durable.  One Size Only:   6.5 - 9.5 Ladies
A word about sock sizing & care - All our alpaca socks are UNISEX unless otherwise noted.    UNISEX - small 5-8, medium 8-11, large 11-13+ CARE:  Gently wash by hand or on gentle machine cycle in COLD water.  Lay flat to air-dry NEVER put an alpaca sock in the dryer.  The heat and moisture will felt the sock!  Consider the use of a "Laundry Bag" to keep socks separate during the wash!
All Our Socks are unisex
Small 5-8
Medium 8-11
Large 11-13+
Alpaca Socks- The "Wellington Wellie" Knee or boot Sock
Great Winter gift!
I purchased these socks as a Christmas gift to my Mom, who is always cold if it isn't Summer. I love that they came with a branded gift sleeve—nice touch. My mom loves the socks, going so far as to ask me where I got them so she could gift them as well! Because I gifted them, I can't speak to the comfort and quality myself but I'll take my moms word for it when she raves about them—she's extremely discerning and picky (hard to buy for) when it comes to presents
Socks That Rock
Our gift of boot socks delighted and we think they may never take them off. Thanks for your wonderful socks.
Warmest Socks Ever!
I absolutely love these socks! They are so warm and comfortable! I wore them all winter long running in -30 weather and sitting in hockey arenas!! My feet stayed warm all winter long! They are my favourite socks!
Love them, will they stay up?
Love the softness and warmth. Curious to see how long they hold their shape even with proper laundry care :)
Knee Socks
I have a hard time taking these off! They are like wearing a warm blanket around your feet. I also use them in my winter boots. I will be getting another pair. Love them!