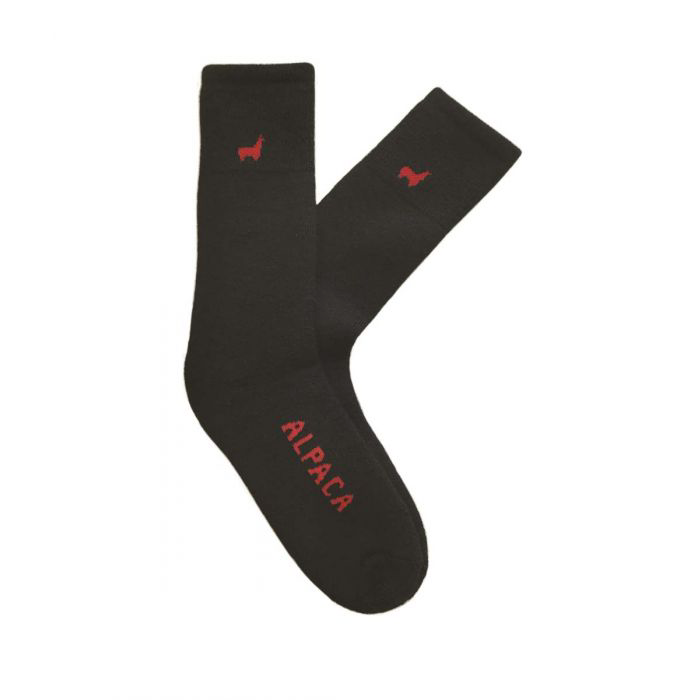 Alpaca Socks - The "Sportsman"
Our mid-weight "Sportsman" Sock Made for the outdoor enthusiast who wants warm dry feet without the bulk and weight!  80% alpaca, 10% nylon, 10% spandex provides the ultimate combination of warmth and durability!  This sock provides absolute warmth and wicking properties, is anti-microbial for odourless feet and is naturaly hypoallergenic.  Made exclusively for SHED - Chetwyn Farms - these socks have a red alpaca at the top and our farm name "CHETWYN FARMS" along the foot.
*Perfect for diabetics & those suffering from foot neuropathy 
A word about sock sizing & care - All our alpaca socks are unisex unless otherwise noted. Unisex - Small 5-8, Medium 8-11, Large 11-13+
CARE:  Gently wash by hand or on gentle machine cycle in COLD water. Lay flat to air-dry NEVER put an alpaca sock in the dryer. The heat and moisture will felt the sock!  Consider the use of a "Laundry Bag" to keep socks separate during the wash!

All Our Socks are unisex
Small 5-8
Medium 8-11
Large 11-13+
Alpaca Socks - The "Sportsman"
Alpaca socks
These were a gift for my husband who does outdoor sports. He loves them
Better Than Expected...Worth the Price!!
I have a physical disability which makes it necessary to use a wheelchair full-time. As a result I have very poor circulation with cold feet all day. I have tried possum socks, mohair blends and a variety of other combinations but I would have to say these are the best. The fit is great and my favourite of the two pairs I purchased are the wellies. I am a size 7 1/2 woman shoe at 5'1". The socks fit my foot and come above my knee where they stay in place without slipping during the day. The sportsman were good as well but because they are a shorter sock they were not my favorite. Both however keep your feet warm without any itchiness...
Socks!
Love them! So warm and cozy!!
Socks
My brother received the socks for Christmas and has reported that they are very cozy and feel so nice next to his skin. A big hit!